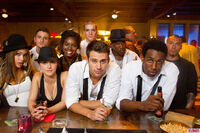 The Mob is the name of the crew founded by Sean and Eddy in Step Up 4 Revolution to participate at contest organized by YouTube. They disturb public order by dancing in restaurants, museum or business building and film themselves to earn views. They manage to reach the first place with approximately 9 million and a half views but are finally disqualified after Bill Anderson filed a complaint.
Mobs and songs
Edit
Ocean Drive : Let's Go (Travis Barker)
Art Gallery : Moca (Clark) - Prituri Se Planinata (Stellamara)
Entasis : Dance Without You (Skylar Grey)
Business Plaza : Ants (Edit) - Pyramid Song (Radiohead)
Gala for City Council : U don't like Me (Diplo)
Dock : Jungle Ship (Jagg) - Bring It Back (Travis Porter) - Buyou (Keri Hilson) - Drup It (Ricky Luna) - This Is the Life (My Name is Kay) - Death Metal (MJ & iRock) - Shut the Lights (Ricky Luna)
Sean : Co-founder
Eddy : Co-founder and hacker
Emily : New member
Penelope : DJ
Mercury : Artist
Jason : FX
Iris : Video
Sly : Stunts
Adrian : Parkour
Ad blocker interference detected!
Wikia is a free-to-use site that makes money from advertising. We have a modified experience for viewers using ad blockers

Wikia is not accessible if you've made further modifications. Remove the custom ad blocker rule(s) and the page will load as expected.