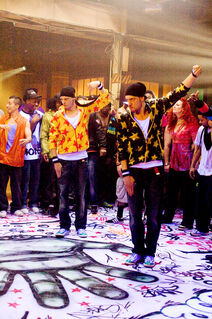 The Santiago Twins are dancers who are a part of the Pirates crew. They appear in Step Up 3D and Step Up: All In. The characters are portrayed by Martin and Facundo Lombard. However, the actual names of the dancers are never said in the movie, except for the Sneaker scene where they are about to introduce themselves to Natalie and keep interupting each other. But, as of IMDb, their names are Marcos and Martin Santiago.
Ad blocker interference detected!
Wikia is a free-to-use site that makes money from advertising. We have a modified experience for viewers using ad blockers

Wikia is not accessible if you've made further modifications. Remove the custom ad blocker rule(s) and the page will load as expected.