Natalie is one of the main characters in Step Up 3.
Natalie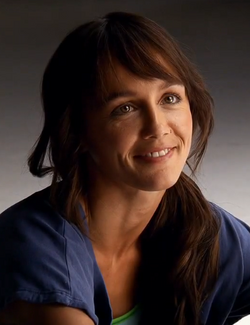 Early Life
Edit
Natalie's parents got divorced when she was at a young age. She qoutes that "she and her brother were sort of the dice that got rolled in between them." Her brother, Jullian, practically raised her. Because of this, she feels as though she owes him everything.
How her character is introduced
Edit
Natalie is first seen dancing in a club underneath the house of the main character Luke. He notices her, and goes downstairs to try and film her dancing. (He takes footage of people who inspire him.) After a rival dance crew starts a fight in the club, Luke takes Natalie by the hand where they then escape to a photo booth. He asks her why she has bags with her, and she claims her friend she was supposed to be meeting there was a no-show. Luke invites her to stay upstairs with him and his dance crew named the Pirates so she doesn't have to be alone. They than go upstairs and she is asked by Luke where she's from. She is from New York, but she was living in London for the past few years. He asked her if she competes in dance competitions, if she does than does she ever win. She replies with, "I never lose." Luke then explains that she is his new recruit and he's going to get her up to speed for the World Jam. Time passes and it is explained that her brother is the leader of the rival crew of the Pirates. She was set up to go to Luke's house as a spy for the rivals. She try's explaining to Luke that she fell in love with him and that is why she had to leave his crew. He feels betrayed and she ends up helping the whole situation by dancing with him at the World Jam. She also says that she is moving to California for a fresh start and she' asks him to come with her. She also sent a film of his to a school in cal
Ad blocker interference detected!
Wikia is a free-to-use site that makes money from advertising. We have a modified experience for viewers using ad blockers

Wikia is not accessible if you've made further modifications. Remove the custom ad blocker rule(s) and the page will load as expected.