==
Luke Katcher
Luke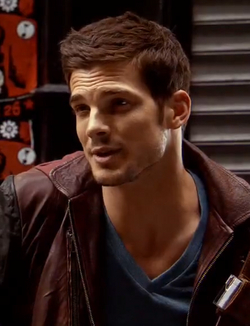 Profession
Film Maker and Dancer
Damnn==
Luke is owner of the club called vault and the leader of the pirates
Early Life
Edit
The vault is where he was raised by his parents who were dancers and when they passed away he took over the vault and the club downstairs. The club is located under the Vault and has seen dancing from lots of different street dancers.
Step Up 3
Edit
Luke is a dancer and a film maker, and the owner of the Vault and club beneath it. He is also the leader of the Pirates, a dance crew. Luke says he found all the pirates on the street, "Crazy talent but nowhere to go".
Physical Appearance
Edit
Luke is a very attractive man, he has dark hair and is very physically fit.
Personality
Edit
He is a very caring person and welcomes strangers into his home. He's also very determined and selfless.
Relationships
Edit
Natalie is Luke's girlfriend.