Andie West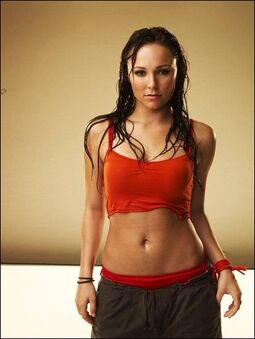 Andie West is the main character in the second film, Step Up 2 The Streets. She's portrayed by Briana Evigan.
Early Life
Edit
The first time she saw someone dancing she couldn't look away. Her mother took her to her first dance jam in the street and that's when she knew she wanted to be a dancer. Her mother died of cancer when she was a child so now she lives with her mother's best friend, Sarah. She trains with her dance crew, 410. Sarah is  aware of the crime and harassment by the 410 and decides to send Andie to live with her aunt Alice in Texas.
Step Up 2
Edit
Main article: Step Up 2: The Streets
After a prank in the subway Andie goes to the Dragon, a popular dance club, where she runs into Tyler. The two have a dance off. The stakes were that if Andie lost she would have to go to Maryland School of Arts. After the leader of the 410 kicks her out, she is convinced by Chase to start a new crew. After her group is shamed, and reclaimed their respect by performing another "prank" the 410 crew vandalized the studio at her school. Because of this and the fact Andie refused to give out the name of her group members she gets expelled from the school. Not long after that her crew caught up to her and they performed in the dance competition. Andie is described as a person who has to have time to get used to someone.
Step Up 3-D
Edit
Andie is neither mentioned nor seen in the film, but it is assumed she is still dancing.
Step Up Revolution
Edit
Andie is neither mentioned nor seen in the film, but it is assumed she is still dancing.
Step Up: All In
Edit
Six years later, having grown up, Andie finds herself working in a fashion shoot working on a dress in LA. Soon Moose and Sean come for a surprise visit. Moose convinces Andie to join their crew. Sean is convinced at how well of a dancer Andie really is after the two have a small dance battle. As the crew make their way into glittering Las Vegas, sparks begin to ignite between her and Sean. As the two have their ups and downs, Sean begins to realize what is important and that he has feelings for Andie. They shared a passionate kiss at the end of the choreography in the Vortex.
"Thank you very much i'm a genius".
"You have no idea what my mother would have done".
Relationships
Edit
Andie is best friends with Moose, it can be assumed they have kept in touch over the years as in Step Up : All In, he knew where to find her.
She is also good friends and looks up to Tyler Gage, her childhood friend who is somewhat her dance mentor. He playfully treats her like a kid. (She is probably good friends with Camille Gage as well, as she is Moose's girlfriend and Tyler's foster sister).
Andie was in a relationship with Chase Collins. They met and grew interested in each other when she transferred to his school. Together they form a crew of "misfit dancers" after Andie is rejected from 410. They develop stronger feelings for each other and grow closer to one another, though not without any difficulties and trials. They share a kiss in the rain at the end of the film. It is unknown of their fate, however judging by the fact Andie has a new love interest in Step Up: All In, it is safe to say they have broken up due to long distance relationship.
In Step Up All In, Sean and Andie in the beginning, both start to open up and sparks fly. At the end, they share a passionate kiss.
It is revealed in Step Up : All in that Andie was injured while dancing with a large dance crew.
Ad blocker interference detected!
Wikia is a free-to-use site that makes money from advertising. We have a modified experience for viewers using ad blockers

Wikia is not accessible if you've made further modifications. Remove the custom ad blocker rule(s) and the page will load as expected.